Above floor tank
Hebefix 100 / 100 H
Direction of pressure drain variable
Alarm system possible
Swing-type check valve
Hot water version resistant up to 176 °F (80 °C)
Activated carbon filter
The above floor sump Hebefix 100 is a drainage pump station for lifting faeces-free domestic and commercial wastewater up to 104° F (40° C). The tank of Hebefix 100 H version is resistant to wastewater temperatures of up to 176 ° F (80° C). It is a free-standing plastic tank (approx. 75 l) with four combination inlets for pipes with an external diameter of 50 or 110 mm. The pressure pipe enclosed can be passed out of the tank on the left or right side as required (connection R 1½").
The pump to be used can be selected according to the volume of wastewater or as individually required: In case of slightly dirty water (grain size max. 10 mm), pumps U3KS, U5KS as well as
U6K ES+DS can be used. If the admixtures are larger or the volume of wastewater is bigger, the use of a pump of the US series in recommendable. In case of higher wastewater temperatures (commercial use or block of flats), US hot water pumps are used in Hebefix 100 H. Optionally, a special float (see accessories) can be fitted to reduce the on and off switching height as well as the residual volume. In case of commercial applications, the resistance of the materials have to be tested in advance.
Hebefix is ideal for subsequent ground level installation. Without a lot of masonry work or without excavating a pit, Hebefix can be installed at any requested location - even downstream of the backpressure level. Wash basins, washing machines or dish washers as well as a shower tray (only in combination with a U3KS or U6KS with special float) can be connected without any problems.
The connection of a ventilation pipe passed to the roof prevents odours. If the sump is ventilated at the erection site, an activated carbon filter prevents unpleasant smell of Hebefix 100. The installation of an alarm system is recommended. It warns against impermissibly high water levels in the tank.
Scope of supply
Plastic tank to house a pump tested in keeping with German / European standard EN 12050, with seal and cover mounted, four combination inlets, connection sleeve DN 100 with clamps, plug-in seals and elastic connection, tank ventilation, activated carbon filter (Hebefix 100 only), cable inlet, tank pressure pipe enclosed (made of stainless steel in case of Hebefix 100 H) and swing-type check valve 1½", (without pump).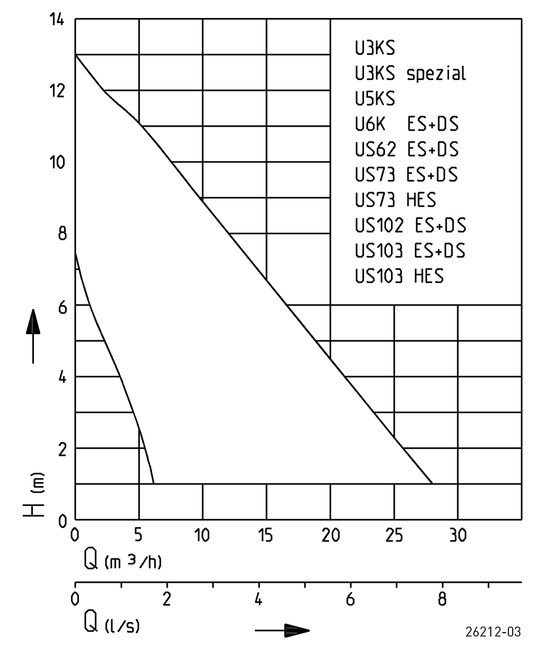 Specifications can be changed without notice. Performance subject to ISO 9906 tolerances.