Drainage lifting station
Hebefix Plus
Waste water lifting station for front wall or direct connection
Areas of application: Disposal of domestic waste water
Integrated alarm with potential-free contact
Made in Germany
Unit for pre-wall installation or direct connection
Ready to connect
Integrated ventilation for reliable pump operation
Flushing device against deposits in the tank
Quiet
Runtime monitoring with acustic alarm and potential-free alarm contact
Maintenance friendly
High-quality plastic tank (ABS)
The Hebefix plus lifting station is an easily installed appliance for disposing of faeces-free wastewater above and below the local back pressure level. Thanks to the small depth of its tank, it can be used in all commercial pre-wall systems. Its attractive design and intelligent technology also allow it to be fitted directly under a washbasin or in any other location. All grey water producers such as washbasins, showers, bathtubs, sinks, washing machines, etc. can be connected (max three applications at the same time).
The grey water is pumped to the nearest downpipe through a small-dimensioned pressure pipe (left or right side).
Hebefix plus can be used wherever an additional bathroom or kitchen is required as part of renovation or conversion work.
For acoustic failure message, the Hebefix plus contains a runtime monitoring with alarm and a potential-free alarm contact.
The unit is supplied with a submersible pump mounted (U3 variant) which is ready to be plugged to a safety socket and operates fully automatically as soon as wastewater starts to flow in. When installed in bathrooms and shower rooms, the corresponding German VDE regulations must be observed.
A sufficiently large inspection opening has to be provided for installation and servicing work (accessory). The unit is in conformity with the specifications of the German Eurpean standard EN 12050.
Scope of supply
Unit including pump according to the German European standard EN 12050, ready-to-connect with cable and plug, complete with collars, outlet elbow, swing-type checkvalve 1¼", transition nipple, ventilation insert, activated carbon filter, clamps and fastening material.
Technical data
| | |
| --- | --- |
| Delivery head Hmax | |
| Flow rate Qmax | |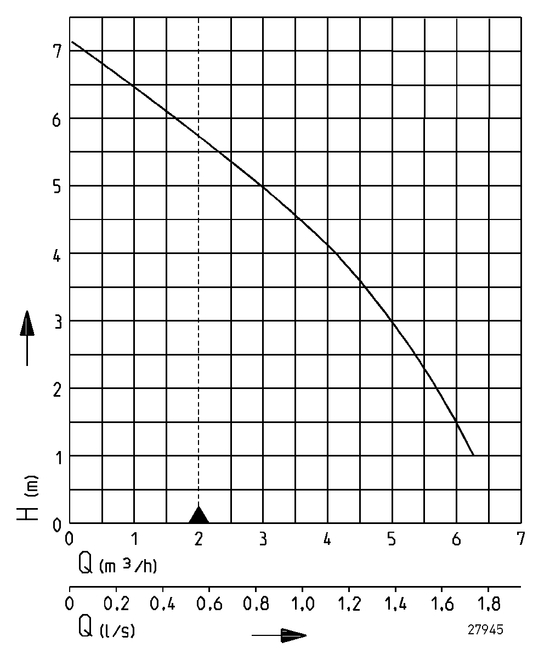 Specifications can be changed without notice. Performance subject to ISO 9906 tolerances.
The minimum flow velocity in the pressure piping must be 0.7 m/s according to EN 12056.
This data is represented in the performance curve as a limit of application.