Drainage pumps
Easyfix
Quick and easy installation
Easyfix 32 Duo incl. control unit
Ready to connect
Guide rail system pre-assembled on base plate
Compact design allows use in small chamber: 300x400 mm for single units / 500x500 mm for duplex units
NEW
With the Easyfix 32 Single or Easyfix 32 Duo installation sets, drainage pumps can be installed as single or duplex pump stations in existing sumps inside or and outside buildings with minimum (time) effort.
The sets are ready to use in and all necessary components are already pre-assembled on a base plate (H=15 mm) up to the connection to the pressure pipe.
In addition to the mechanical components, the Easyfix 32 Duo also includes a control unit. This control unit regulates the alternating operation of the two pumps and also ensures alarm messages and peak load operation. The level sensor responsible for this is connected to the control unit with a 10 m cable.
Normal operation of the pumps is ensured by their attached float switches, so no external level control such as submersible ball float switches are required.
The U3 KS, U3 KS spezial, U5 KS and U6 K ES can be connected to both Easyfix sets. The pumps are not included in the scope of supply. The use of the special float for low switching points (pump accessory) is possible.
Scope of supply
Easyfix 32 Single: Guide rail system on base plate, pressure pipe with check valve (completely pre-assembled), guide rail claw, flexible connection and clamps.
Easyfix 32 Duo: 2x guide rail system system on base plate, pressure pipes with check valves (completely pre-assembled), guide rail claws, flexible connection, clamps and control unit (1.5 m cable).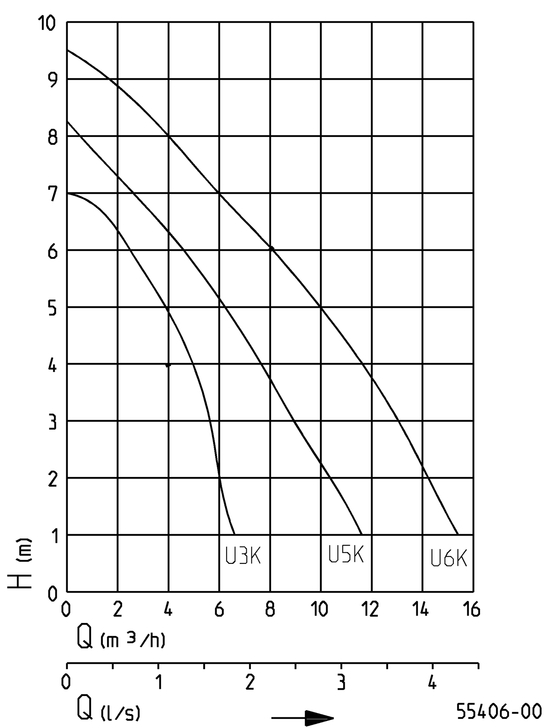 Specifications can be changed without notice. Performance subject to ISO 9906 tolerances.
The minimum flow velocity in the pressure piping must be 0.7 m/s according to EN 12056.
This data is represented in the performance curve as a limit of application.