Sewage pumps
MultiCut
Reliable solids transport due to improved cutting technology
External adjustable cutting mechanism
Controllable oil chamber
SiC mechanical seal independent of sense of rotation
Moisture-sealed cable inlet with plug-in cable connection
Installed motor protection
Centrifugal submersible sewage pumps fitted with the MultiCut cutting system are used as stationary appliances in pressurised drainage systems for discharge in sparsely populated areas or of detached houses. They are suitable for pumping domestic wastewater with the usual additions (as specified in German standard DIN 1986, Part 3).
For pumping from ducts which are connected to the public sewer system, explosion-proof submersible pumps of the UFK series have to be used. On account of the upstream cutting system, the pressurised line as from DN 32 - as from DN 80 minimum without cutting system - may be routed parallel to the terrain.
Operating conditions up to a temperature of the material to be transported of 40° Celsius
Submerged motor: Continuous operation (S1)
Emerged motor: Intermittent operation (S3) (e.g. 20% = 2 min. operation, 8 min. break)
The unique MultiCut cutting system ensures a maximum of operational safety at outstanding delivery characteristics. Fitted with a cutter plate made of hardened stainless steel and a three-bladed knife, it disintegrates coarse additions in the wastewater with more than 200,000 cutting processes per minute before they can get into the pump hydraulics. Solids which cannot be transported are rejected outside of the pump by the cutting rotor as the cutting system is located upstream from the pump hydraulics. Specifically arranged grooves on the cutter plate ensure additional safety as the cutting unit is permanently cleaned automatically during the delivery.
Scope of supply
Sewage pump with or without explosion-proof in keeping with German/European standard EN 12050 with 10 m cable, without plug, without base.
Ex II 2 G Ex db IIB T4 Gb
Special technical note for 25/2 ME:
As the rated output of the motor exceeds 1.4 kW, the permission of the local power supply organisation has to be obtained prior to ordering and commissioning. A soft starting device (starting current approx. 33A) can only be installed in the contro unit AD 12 ExME if a new order is placed in the factory.
Technical data
| | |
| --- | --- |
| Delivery head Hmax | |
| Flow rate Qmax | |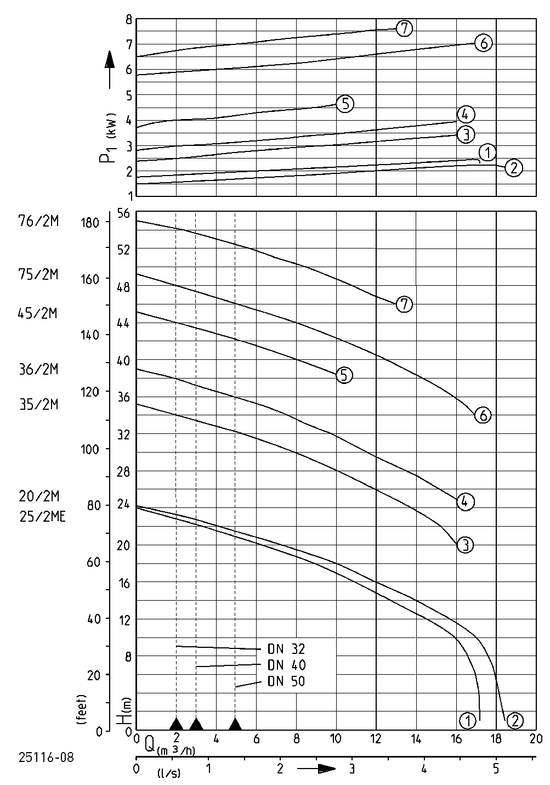 Specifications can be changed without notice. Performance subject to ISO 9906 tolerances.
The minimum flow velocity in the pressure piping must be 0.7 m/s according to EN 12056.
This data is represented in the performance curve as a limit of application.
14 results
| Type | Code No. | Voltage | Motor rating P1 | Motor rating P2 | Current | Fuse | S3 | Ex-proof |
| --- | --- | --- | --- | --- | --- | --- | --- | --- |
| | | | | | | | | |
| | | | | | | | | |
| | | | | | | | | |
| | | | | | | | | |
| | | | | | | | | |
| | | | | | | | | |
| | | | | | | | | |
| | | | | | | | | |
| | | | | | | | | |
| | | | | | | | | |
| | | | | | | | | |
| | | | | | | | | |
| | | | | | | | | |
| | | | | | | | | |