Submersible drainage pumps
Multidrain UV3
First choice for mobile applications
High-quality stainless steel design
Ideal for narrow shafts
70 degrees media temperature (10 min.)
High quality stainless steel design
Especially suitable for mobile use
10 mm free passage
Cooling jacket for motor housing
Discharge branch vertical 1 1/4"
Flushing device
Self ventilation
Moisture sealed cable inlet
Fluid temperature 35 °C, temporarily 70 °C (10 min.)
The Multidrain UV3 is a versatile submersible drainage pump made of stainless steel for portable and stationary use. It pumps rainwater, lightly submersible polluted water and domestic wastewater from e.g. household dishwashers or washing machines (also high temperature).
An easy-to-activate flushing device to reduce deposits in the pump sump ensures trouble-free operation and facilitates maintenance.
Motor jacket cooling ensures submerged operation without the risk of overheating. In case of dry running, the thermal motor protection switches off the pump before reaching a critical temperature. These protective measures, plus the swing-type check valve and a hose connection included in the scope of delivery, make the Multidrain UV3 a perfect pump for mobile applications.
In stationary use, the Multidrain UV3 S with automatic switch removes water from drainage shafts in cellars, washing basements or storage rooms and serves as a backflow protection. If the shaft or container should runs dry temporarily, air cushions can escape through the ventilation opening. When the strainer base is removed, the pump removes the water down to a level of 5 mm.
If submersible pumps are used outdoors, only a pump with 10 m cable without extension cable may be used in accordance with VDE Regulation 0100. For construction sites and garden ponds, a H07-type cable must be used.
Scope of supply
Pump ready to connect according EN 12050 with vertical discharge, 11/4" female connection elbow, cable and plug, swing-type check valve for mobile use, graded hose connection 1¼" – 38/32/25,float fixation, locking plug (UV3S/3SF) S model with automatic level float switch.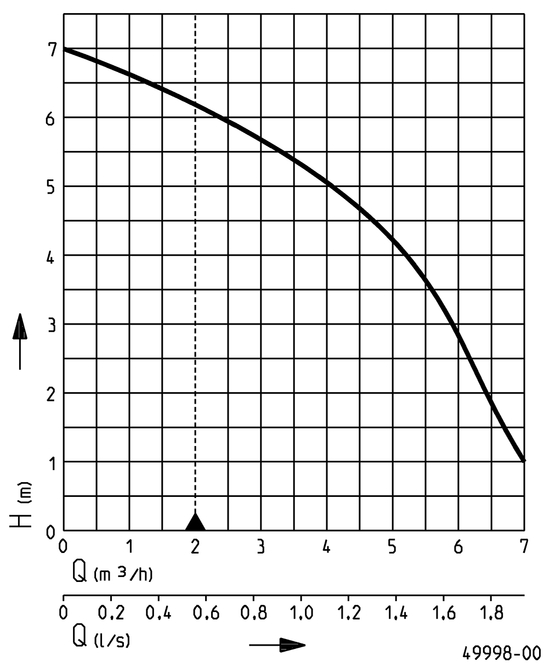 Specifications can be changed without notice. Performance subject to ISO 9906 tolerances.
The minimum flow velocity in the pressure piping must be 0.7 m/s according to EN 12056.
This data is represented in the performance curve as a limit of application.
4 results
| Type | Code No. | Ciruit | Power line |
| --- | --- | --- | --- |
| | | | |
| | | With built-in level control | |
| | | With built-in level control | |
| | | With built-in level control | |