Sewage lifting stations
COMPLI 400
The original even better now!
The classic lifting station for the detached house with
versatile connection options
With variable pressure outlet in DN 80 or DN 100
5-year warranty for specialist tradesmen when registered
at www.hauptsachejung.de/en
Made in Germany
Ready to connect
Submersible
Auxiliary inlets vertical/horizontal
Revolver clamping flange
PE-tank approx. 70 L
Vortex impeller
Smart home compatible
This sewage lifting station for detached houses is fitted for versatile fields of application. During the design work, special attention was given to easy handling (recessed grips), space-saving and uncomplicated installation.
The submergible unit is permitted for general use in areas subject to flooding. The control unit has to be fitted in a well ventilated flood-proof room.
The PE tank has freely accessible connections, a top-mounted cleaning opening and a height-adjustable inlet socket which can be infinitely adjusted on site to an inlet height of between 180 and 250 mm depending on the drainage situation.
Other horizontally and vertically arranged additional inlets increase the connection and drainage options. The vortex impeller of the pump offers the safety you can rely on.
The Compli sewage lifting station can be integrated into a smart infrastructure. The FTJP radio transmitter is connected to the potential-free contact of the lifting station. It is now possible to transmit the switching status (e.g. an alarm message) to an EnOcean-capable smart home gateway (Wibutler, Afriso, Homee).
Scope of supply
Ready-to-connect disposal system according to German / European standard 12050 with height-adjustable DN 100 inlet socket for inlet heights 180 to 250 mm, horizontal and vertical additional inlets Ø DN 100/DN 50, mounted submersible pump and DN 80 connection flange with pipe unit Ø 110, reducer ring Ø 110 to Ø 90, optionally with pre-mounted DN 80 non-return valve, one elastic connection each with clamps for plastic pressure pipes and a sleeved pipe for DN 70 ventilation pipe, automatic level control, control unit (IP 44 type of protection) with motor protection, contactors, transformer, mains-dependent, optionally acknowledgeable alarm system and potential noc-contact for collective failure messages, optical display of sense of rotation (three-phase current), manual-0-automatic switch as well as an adjustable maintenance interval display.
Cable between tank and control 4 m. Cable between control and plug 1,5 m.
Technical data
| | |
| --- | --- |
| Delivery head Hmax | |
| Flow rate Qmax | |
| Free passage | |
| Pressure outlet | |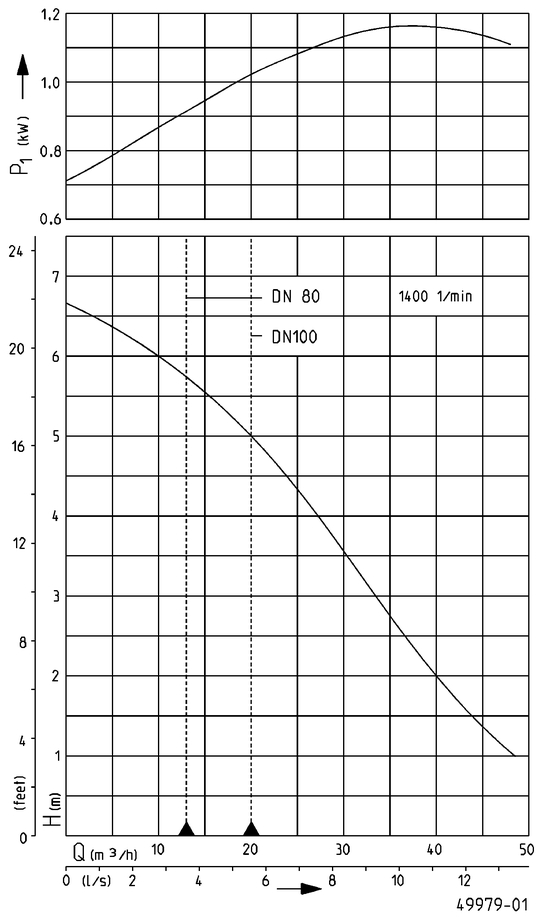 Specifications can be changed without notice. Performance subject to ISO 9906 tolerances.
The minimum flow velocity in the pressure piping must be 0.7 m/s according to EN 12056.
This data is represented in the performance curve as a limit of application.
4 results
| Type | Code No. | Voltage | Motor rating P1 | Motor rating P2 | Current | Plug |
| --- | --- | --- | --- | --- | --- | --- |
| | | | | | | |
| | | | | | | |
| | | | | | | |
| | | | | | | |