Protection against flooding in the basement
Increasing heavy rainfall events lead to more and more frequent flooding in all parts of the world and thus endanger inventory and the building substance below the backpressure level. Basement flats as well as wellness oases, fitness rooms and offices in the basement area are particularly at risk.
In the following, we describe the causes of backpressure and name measures for effective protection against backpressure sewage. In addition, with the help of our backpressure animation, you can also animate a backpressure scenario online and see what happens when heavy rainfall occurs and there is insufficient backpressure protection.
Reasons for backpressure
Backpressure level
Protection against backpressure
Backpressure animation
How can a backpressure occur?
If more water flows into the sewage system during a heavy rain than it can "swallow", a backwater occurs.
This means that water from the sewer below the street enters the house through the house connection pipe.
All rooms below the so-called backpressure level (by definition according to DIN EN 12056 the upper edge of the street) are flooded by sewage escaping from toilets, washbasins or drains if there is no appropriate backflow protection, and considerable damage is the result.
www.backpressure.net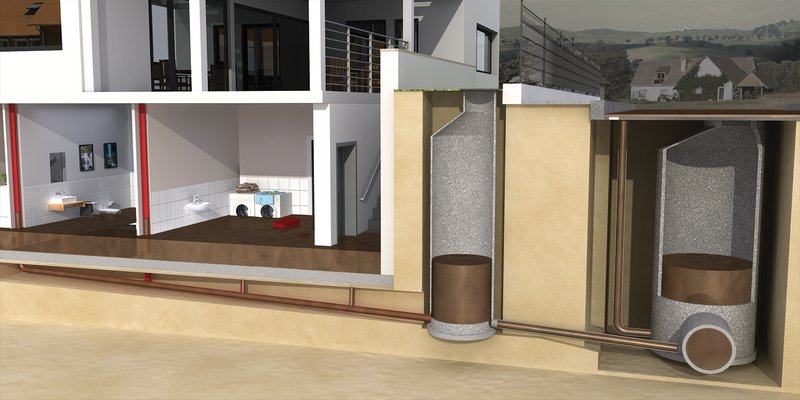 Consumer tip:
Proper protection against backpressure guarantees carefree use of the drainage objects, as well as long-term value retention of the facilities in the basement area.
How to preventively protect against backpressure?
The most effective and safest protection is provided by suitable backpressure protection in the form of backwater valves and lifting stations. Only lifting stations offer comprehensive protection against backpressure.
Advantages of a lifting station
They collect the water in the on-site pump shaft, a robust Hebefix or Baufix or a plug-in compli lifting station. When professionally installed, the wastewater is routed via a backflow loop and reliably pumped into the sewer above the backpressure level. In addition, professional installation and regular maintenance by qualified personnel saves every homeowner a lot of trouble and money.
They collect the water in the on-site pump shaft, a robust Hebefix or Baufix or a plug-in compli lifting station.
Explanatory video: Backpressure protection
Animated backwater slider
This is how it works:

Move your PC mouse over the image and simulate the differences between an effective backpressure protection and a non-existent backpressure protection. The blue colouring simulates the rising water level during a heavy rain.